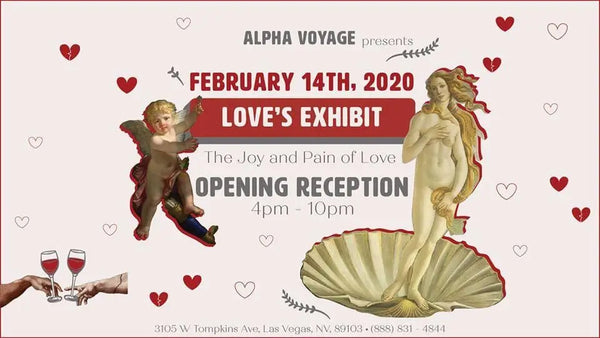 Love's Exhibit - Joys and Pains of Love
Alpha Voyage Gallery's Event for February featuring artists, musicians, writers, and poets and their works inspired by the Joys of Love and/or Pains of Love on February 14, 2020. 
Jeffrey Skalny of Alpha Voyage Gallery is proud to present his 2nd Annual Love's Exhibit on February 14, 2020. This event will be featuring various art, music, literature, live performance, photography, songs, spoken word, love or pain letters, video, and more, inspired by Love. Immerse yourself in the concept of Love as you explore different perspectives and a range of emotions.  Come decide for yourself if each piece is inspired by the joys or pains of love.  
The opening reception will be from 4 pm to 10 pm on Friday, February 14th. There will be refreshments, a speech from Jeffrey Skalny, and an introduction of each artist showcasing their piece. Open every Saturday from 11 am until 6 pm, with private appointments available for viewing during the week, you can experience art in the way that best fits your life. 
Alpha Voyage Gallery is an adventure created by Private Technology Group to demonstrate the perfect combination of style, design, performance, and passion. Here you can experience art, music, and atmosphere in a whole new light. Regularly hosting new exhibits allows them to highlight both upcoming and established artists. 
Jeffrey Skalny, Alpha Voyage Gallery, 3105 Tompkins Ave, Las Vegas, NV 89113, 888-832-4844, jeff@alpha.voyage