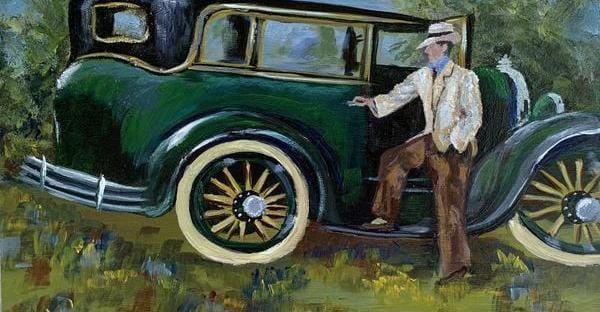 Roaring 20s
Roaring 20s
The Roaring 20s was a time where new things were developing around the country. Fashion was at it's most beautiful, and vehicles were more mobile. Gangsters were everywhere. It's one of the most romanticized eras of our literature, our movies, and our language.
Erick Stonebreaker takes us there. To a time where life was simpler, or was it? It's been 100 years since 1920, and this is the perfect time to reminisce. With his 3 piece set, named Roaring 20s, we can see every detail of how a time long ago comes to life today.
I enjoy this ensemble very much. All three pieces together make a great wall piece. Imagine yourself if you will walking into a room and be greeted by Roaring 20s Gentlemen, Roaring 20s Lady, and Roaring 20s Ice Cream. Now that's a feeling of time shift.
There's something about the pieces that draw me into them. Maybe it is the use of acrylics and how Eric masters each stroke deliberately. Nothing seems to be done by chance or by error. He captures the colors of the period, especially the cars, the trees, and the grass. I love that the cars are on the grass and not on a blacktop.
In Roaring 20s Gentlemen, he captures the essence of strength and power. His choice of fashion and the style of the vehicle encompasses the period. When I see the set, I dream of that time. Actually, I imagine myself as the Gentleman, opening the suicide door and driving away through the grass in the fields, creating my own road to success.
Now Roaring 20s Lady is a bit different. Eric captures the essence of Femininity and strength. She is wearing a high fashion ensemble with a parasol to boot. Here I see the freedom of life, the carefree living in the time. The youth was exploring itself and managing quite well.
Roaring 20s Ice cream is quite cute. I would have enjoyed homemade ice cream from an ice cream cart. Imagine going to the park and enjoying the day, the breeze, and the soft summer heat, then suddenly a bell rings in the distance. A ring that's inviting you to get some ice cream. You run to the cart and ask for Vanilla or Chocolate. The Ice Cream Man opens the tub, scoops one big spoonful of vanilla ice cream on to a waffle cone, and hands it to you.
The taste of vanilla still flavors my taste buds. When I see these paintings, I feel at peace and in love with a period a century ago.
Come and visit our gallery and enjoy other pieces from Erick Stonebreaker.