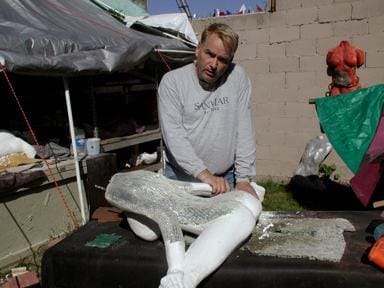 Carl Young
Carl grew up in the small town of Harbert, Michigan, on Lake Michigan's shores. He spent a lot of time at the beach constructing sandcastles and playing in the mud after it rained. In retrospect, this is very similar to the process Carl uses to create his beautiful sculptures. Was it the beginning of his art career?
"To capture beauty, you need to play in the mud."
Carl Young

Art crept into Carl's soul while working with his father, photographing the Chicago Art Institute's Surrealism and Impressionism wings in 3-D. Carl vividly recalls the discussions with his father regarding fellow photographers Edward Steichen and Alfred Stieglitz. They brought this new French art movement (called Impressionism) to the US. His father predicted the art generated by that movement would become adored and appreciated throughout the world within his lifetime, and he was right.
"Now, I share an eternal connection with those who have lived before - to beauty, to aesthetics, and the human form in sculpture."
Carl Young

Carl's passion is to bring today's art world into that eternal nexus. Carl desires to show us that art is an all-encompassing sensory experience that God gave us to behold. Art is that unexplained ability we sometimes see in clairvoyants, mystics, or psychics who are in touch with the eternal.

Carl has experienced a lot. From managing a motion picture film lab to owning a photographic studio and gallery. He was a successful Hollywood talent manager, a marketing director, and a limo driver. Still, all that was a prelude to the sculptures Carl brings to life.
"Osmosis helps, but your eyes will deceive you. . . when you start using your hands, your vision will clear."


It was a profound awakening. In 2001, Carl began creating sculptures full time. He started casting performers from "O", then moved on to dancers, entertainers, and celebrities. At first, Carl focused on functional art like lamps and tables. With experience, his passion grew into fine art, metal sculptures, painted & collaborative work.

Never one to be content with greatness, Carl wanted a new challenge. He shifted focus towards designing ceramic and glass pieces. Nothing you could buy would allow an artist to create life-sized glass pieces. So Carl started designing special equipment to turn his vision into reality.

As Carl tells it, everything became a reality during one fortuitous walk on the beach. Carl was walking along and found an older man struggling in the sea. Being the kindhearted artist he is, Carl helped free the gentleman.
Carl couldn't help himself when he suggested that the man avoid wandering into the ocean with a long flowing robe, even if he did have a shiny walking staff in hand. They both chuckled and quickly became friends.

For some unknown reason, Carl felt the need to discuss the visions he saw of majestic life-sized glass sculptures. He then talked about the troubles he was having in finding a way to create the sculptures. At this, the man smiled ever so slightly as he suggested that Carl join him on a walk further down the beach.

The sun was setting, but a twinge in Carl's gut convinced him to walk. As they walked, Carl marveled at how a bright moon had taken the place of the sun and allowed them the light to continue their journey. After some unknown amount of time passed with effortless walking and fantastic storytelling, they came to the mouth of a large cave. Carl peered into the cave, searching for the glimmer of light he thought he saw as they approached but saw only absolute darkness.

The man muttered something under his breath, tapped the end of his walking stick on the rocks, and the end illuminated. The light was pleasant and peaceful. Carl followed him into the cave. Suddenly, the man stopped and asked Carl if he had an apple? Carl was stunned by the abrupt stop, so it took him a second to remember the snack he had brought contained one apple and a bottle of water. The man snatched the apple from Carl's bag, smiled, and continued walking.

As they rounded another corner, Carl saw that the cave walls up ahead looked different. They almost glistened in the light of the staff. Two steps later, Carl realized the cave walls were moving in and out ever so slightly. Carl froze as he realized he was standing next to one nostril and one eye on the massive head of a dragon. The man handed him the apple and told him to hold out his arm in the direction of the dragon. If his intentions were pure and his talent sufficient, the dragon will gently grab the apple. If not, well, it was nice knowing him.

For what seemed an eternity, Carl stood with his arm extended. The faint smell of sulfur floating in the air. The eye blinked, then the head turned to stare into Carl's soul with both eyes. Carl started to marvel at the beauty before him, and he sighed in relief. The dragon gently ate the apple and then playfully brushed her forehead against Carl's chest, begging for attention.

The man instructed Carl as to the care necessary for the dragon. The man then explained that together, they could bring Carl's visions to life. That is how Carl found a way to create the magical glass sculptures we are privileged to enjoy today.